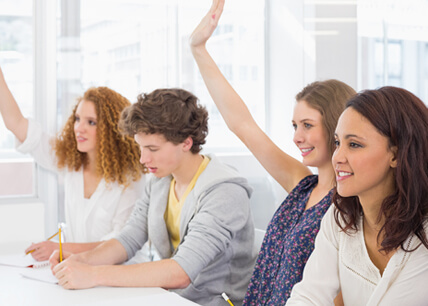 English
Under the Christianity spirit, learn to read closely, to think critically, and to write clearly, creatively, and compellingly in English as well as enjoy good literary works, linguistics, and foreign cultures.
Introducation
English Studies Major is designed to give students a basic understanding of the core areas of English language and linguistics, British and American literature and the related areas of the humanities, and British and American cultures as well as practical English.
English Studies Major emphasizes the training of building a Christian character and future-oriented creative individuals that are able to contribute to local and international communities in order to realize the Love of God and the cultural mandate and the great commission.
About the Major
English Studies Major, established in 1997, provides focused study in British and American culture and literature, English linguistics, as well as practical English.
The curriculum offers diverse programs designed to increase students' English proficiency required for their development into agents in a global era.
English Studies Major aims at developing experts equipped with extensive knowledge and creative analytical skills in English language and literature as well as culture of English-speaking countries in general and at educating competent men of international capabilities as well as at cultivating creative Christian leaders.
Career Prospects
Graduates of English Studies Major find jobs in almost every sector of society including domestic and overseas businesses, trade, education, journalism, broadcasting, tourism, government agencies, international organizations, translation and simultaneous interpretation. Also, they may pursue master's and doctorate degrees in English language studies, English literature, English education, translation and comparative literature.
The Curriculum
Course
Name
Course Title
Credit
Class Type
Hour
Theory
Practice
Class
Time
Basic
Subjects in
Majoring
(mandatory)
Exercises in English
English Language and Culture
English Vocabulary: Understanding and Application
3
3
3
3
3
-
-
-
3
3
3
3
Optional
Subjects
Group A
English Grammar
English Conversation 1
Readings in English
Exercises in English Listening
English Pronunciation and Speaking
English Composition
English Reading and Storytelling
3
2
3
3
3
3
3
3
-
3
-
-
-
3
-
2
-
3
3
3
-
3
2
3
3
3
3
3
Optional
Subjects
Group B
English Grammar: Practice and Application
English Conversation 2
Understanding English Language
Understanding British and American Poetry
British and American Drama
British and American Novel
English Listening and Note Taking
Outline of English Literature
Outline of American Literature
Business English 1
TOEICⅠ
3
2
3
3
3
3
3
3
3
3
3
3
-
3
3
3
3
-
3
3
-
-
-
2
-
-
-
-
3
-
-
3
3
3
2
3
3
3
3
3
3
3
3
3
Optional
Subjects
Group C
TOEIC Speaking
British and American Literature and Culture
Intercultural Communication
Business English 2
Business Writing
English and English Education
English Translation Practice
TOEICⅡ
2
3
3
3
3
3
3
3
-
3
3
-
-
3
-
-
2
-
-
3
3
-
3
3
2
3
3
3
3
3
3
3
Total
29 Subjects
84
45
39
84