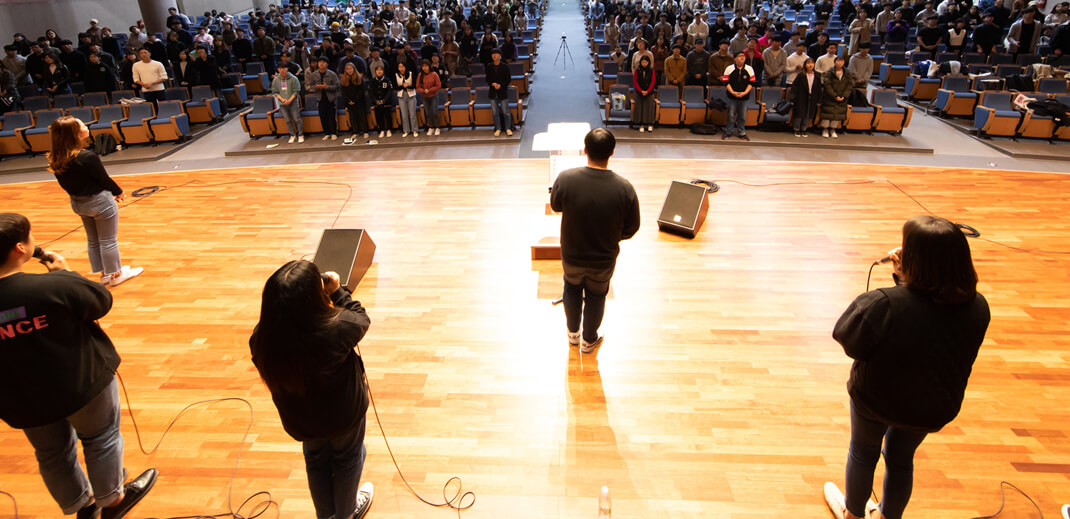 Division of Christian Studies
Produce Christian and social leaders with knowledge and moral character by investigating the most principal subjects such as the nature of man and the ultimate meaning of life.
Introduction

The Division of Christian seeks to contribute to the global community by producing leaders with moral character and creative intelligence who will lead the information society and globalization era through the high quality research activities and consumer-centered education based on the founding ethos of the university.
Educational Purpose

The Division of Christian aims to nurture the ecclesiastical and social leaders who have well-balanced personality between intelligence and spirituality by educating them on the most principal and interesting subjects such as the origin of space, the existence of God, the nature of man, the ultimate meaning of life, the causes of vices and pain, the end of the world and salvation, death and after-life, etc.
Educational Goals

To educate the professional and practical abilities based on Christianity (Creative professionals)
To cultivate the mature personality, disseminate the Gospel and practice love founded on Christianity(Acting servants)
To nurture Christian leaders through the understanding of Christian culture and values('Glocal' communicators)
Related Certificates

Religious Teacher Certification for Junior and Senior High Schools
Professional Counselling Certification
Counselling Educator Certification
Christian Educator Certification
Social Welfare Professional Certification
Youth Guidance Certification
Youth Consultant Certification
Professional Care Certification
Division Office : Pastorium # 103
Telephone : 041-550-2402, 2547, 2548
Practice Hall : 29 Cheongsu 12th street, Dongnam-gu, Cheonan City
Telephone : 041-557-9522