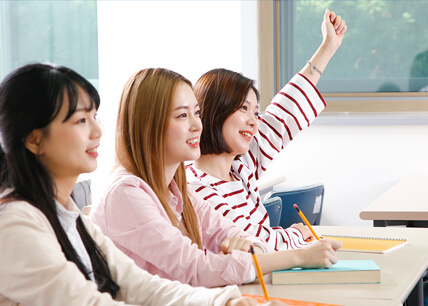 Korean Language and Literature
Ascertain naltional identity of Korean! Contribute to spreading Korean culture and literature to the world!
Introducation
As one of the most important majors of Baekseok University, it contributes to the reputation of the university. Five professors and undergraduate students make an effort to study Korean language and literature. Many graduates are working for diverse sectors thanks to the development of diverse education programs and the following factors

(1) Enable students to use and write Korean properly
(2) Understand not only modern literature but also classic literature
(3) Cultivate creative activities and critical thought
(4) Students-centered education focusing on progress of the ethnic culture and globalization of the Korean literature.

We recommend that any student with infinite imagination and real sensitivities major in Korean language and Literature. Students of this major verify identity of the Korean people and seek how Korean culture and literature can contribute to the world literature and culture. Students can lay the foundation to study other subjects through majoring in Korean language and literature.
Career After Graduation
Students can be professor and researcher after they study in domestic graduate schools(general graduate schools, education graduate schools, art graduate schools) or international graduate schools(comparative literature and Korean study). They can also be teachers for middle and high schools and private institutions, writers for broadcasting companies, reporters for newspaper companies and magazines, copywriters for advertising companies, novelists, poets or critics.
A Course of Study
Course
Name
Course Title
Credit
Class Type
Hour
Theory
Practice
Class
Time
Basic
Subjects in
Majoring
(mandatory)
Understanding Elementary Chinese Characters
Korean Language and Culture
Korean Orthography
3
3
3
3
3
3
-
-
-
3
3
3
Optional
Subjects
Group A
Introduction to Korean Linguistics
Understanding Korean Literature
Understanding Contemporary Poetry
Understanding Korean Modern Novel
Understanding Classical Korean Essays
Understanding Hyangga and Koryeo Novels
Understanding Film and Mass culture
Understanding and Practice of Drama
3
3
3
3
3
3
3
3
3
3
2
3
3
3
3
2
-
-
1
-
-
-
-
1
3
3
3
3
3
3
3
3
Optional
Subjects
Group B
Korean Phonology
Korean Semantics
Korean Grammar
Theory of Modern Poetry
Theory of Modern Novel
Understanding Classical Korean Novels
Understanding Sijo and Kasa
Practice of Communication
Understanding Oral literature and Characters
3
3
3
3
3
3
3
3
3
3
3
3
3
3
3
3
2
3
-
-
-
-
-
-
-
1
-
3
3
3
3
3
3
3
3
3
Optional
Subjects
Group C
History of Korean Language
Modern Korean Writers
Literary Criticism
History of Modern Korean Literature
History of korean Literature
Practice of Creative Writing
Korean Classical Literature and Contemporary Culture Contents(Capstone Design)
Theory and Practice of Publication and Editing
Principles and Practices of Advertising Planning and Copy Writing
3
3
3
3
3
3
3

3
3
3
3
3
3
3
2
2

2
2
-
-
-
-
-
1
1

1
1
3
3
3
3
3
3
3

3
3
Total
29 Subjects
87
80
7
87