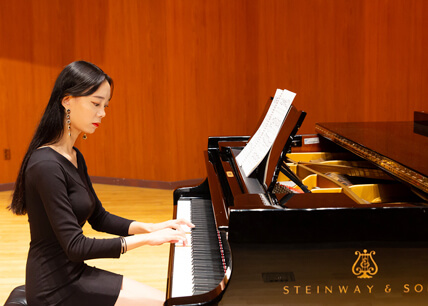 Piano
The purpose of the program is to foster professional cultural artists with the right character and creative thinking to lead culture and art.
A Course of Study
Major Instruction in Performance 1, 2, 3, 4, 5, 6, 7
To train students in theory and practice to be qualified music performers through individual instruction in each major offered, including piano, vocal, composition, orchestral, and computer music, ranging from basic music to classical, romantic, and modern music.
Major Instruction in Performance 8 (Graduation Performance)
To train students to be qualified professional performers by showing their comprehensively acquired musical knowledge and accomplishments through performing on stage.
Performance 1,2,3,4,5,6,7,8
These courses enable students to develop the refined skill for professional musician by experiencing public performance on stage. Students study to express the necessary musical knowledge and technique through their playing.
Sightsinging and eartraning
I want to develop my sound and reading ability to prepare basic skills as a musician. To develop the ability of any note or music to be able to play in accurate rhythm and pitch, and to be able to hear the rhythm, melody, and harmony of a song.
Counterpoint 1, 2
1.The counterpoint method, which handles the horizontal notes, studies and practices how to create a direct melody and a presidential rate.
Keyboard-harmony
1. Through the exercise on the keyboard, the three chords are connected to the composition and provide training to develop into various layers of harmony, interchanges, and variations
Choral1, 2, 3, 4, 5, 6
Church music, secular music, voice for chorus, harmony, Express the beauty of expression through presentation
Choral7, 8
Understanding the wide range of choral works and learning various musical phrases through representative choral works from Renaissance to modern times. We experience pleasure and beauty through choral music by confirming the impressions of Mars and Ulm which have been widely used by various musical periods and composers.
Advanced Conducting
Learn the rhythm change and command method through other score besides hymn
Harmony 1, 2
study of total basic music theory such as interval, scale, tonality, harmony, modulation, harmonic progression focusing on solving problems as well as studying harmonic theory
Music Theory 1,2
studying and understanding of basic music theory such as interval, scale, tonality, articulation, natation, musical expression, and terminology
Post 20C Piano Music
study and analyse of post 20c composers and piano solo music, piano ensemble, and piano concert etc.
Global Teaching Practice
This course envisions empowering piano major students with practical tools and tangible techniques to carry on dynamic music lessons in English. Each lesson has been designed using entry level lesson materials to help students practice preparing creative and yet effective lesson plans, which go a-par with our current global music education standards.
Piano Accompaniment Training 1, 2
Prof. Oh teaches students who are majoring in piano performance to perform all the accompaniments, such as vocal and instrumental music. She also instructs piano accompaniment training through master classes with singers.
Listening to Music & Criticism
The goal of this course is get a broad musical knowledge. And study the develope of musical instruments, the changing of play style and study style of masterpieces. And also understand each musical era and Characteristic of each composers through the this course
Literature of Piano Music
This course aims to help students to deepen and widen their knowledge and understanding on the literature of piano music through appreciating and analyzing major piano works ranging from Baroque to modern times, and by doing so, to develop and expand their personal repertoires.
Piano structure and tuning experience 1,2
Learn piano structure and tuing through theory and practice
Piano Ensemble1.2
This Class helps students have various performing experiences that a professional musician should have through research on composers, explanations about musical compositions and performance of piano concertos and duo works.
Theory of Music Education
This course is designed to introduce effective teaching methods and addresses topics related to pedagogical issues and philosophies we face and discuss in the field. Through class students will be expected to learn meaningful goals for music lesson in variety of settings and to communicate clearly and precisely with aural language to music teaching.