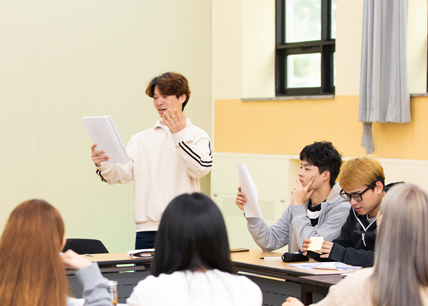 Performance Arts
The purpose of the program is to foster professional cultural artists with the right character and creative thinking to lead culture and art.
A Course of Study
Understanding of Theatre and Performing Arts
This course introduces each element of drama, including play, directing, acting and stage skills through the history and characteristics of drama, and reviews how to practically approach and operate the theatrical art as a performing art.
Theater Practicum and Stage Craft
Students will experience facilities such as theater, lighting, and sound effect, and understand the general knowledge of the stage skills required for theatrical production, and learn the process of stage art, lighting, costumes, makeup, and props.
Acting 1
To train basic knowledge and methods about acting
Acting 2
To intensive train basic knowledge and methods about acting
Voice Lab 1
To educate the basic knowledge and methods about acting in depth
Voice Lab 2
To educate the basic knowledge and methods about acting in depth
Performance Workshop
To produce an act play in which acting part and staff part can participate by selecting a theme.
Making of Theatre Production 1, 2
To practice basics of production from planning, pre-processing, practice, production, PR and performance.
Beginning of Directing
Students will learn the basic knowledge about stage production in both of theory and practice.
Scene Study
Students will practice analysis and expression simultaneously to show a scene or a whole of a play by selecting a work from masterpieces home and abroad.
Playwriting Practice
Students will practice analysis and criticism through actual practices on storytelling and scene, sequence making and plot composition.
Korean Theatre vs Asian Theatre
To compare and analyze the history of the play and major works in each country.
West Theatre
To examine Western theatrical history from ancient Greek period to 1875, the beginning of contemporary theater, and study its effects on modern theatrical art.
Improvisation
To analyze the situation presented and study impromptu acting methods in accordance with the context and situation.
Theatre Space and Scenograph
To understand physical structure of the theater and learn analysis and development to make a creative play space.
Method Acting
To learn method acting theory by Stanislavski and practice acting according to media such as film, broadcasting and drama.
Stagecraft 1
Students will acquire a comprehensive stage skills for effective production and operation such as stage production, lighting, costume, props, makeup, sound through practical training.
Professional Development Seminar for Stage
Students will theory and practice systematically and efficiently to get a national certificate for stage equipment, lighting and sound.
Vocal Technique
In this couse the body becomes an instrument for a stable tone. They will learn various techniques related with expressions such as pronunciation, strength of sound, and changes in the tone.
Play Analysis
Students will read plays from ancient Greek to the beginning of the 19th century, analyze its dramatic structure and understand the meaning and symbols of the works.
Physical Training 1
Students will feel physical movements corresponding to various elements such as text and music and make creative movements.
Physical Training 2
Students will train and develop free physical expressions that can be applied to various performances.
Directing 1
Students will learn the background, roles and functions of direction and practice directing that is performed in actual performance production.
Directing 2
In this course, students will analyze the works and theories of experimental drama producers who break the conventional framework and present the concept of innovative performances, rather than the way of producing traditional performances, and explore the ways to create new performances as artists.
Making of Theatre Production 3, 4
In this course, students will practice basic of production such as planning, pre-processing, practice, production, PR and performance.
Acting for Media 1
Students will learn the basic elements of video acting through camera acting and examine the differences between the techniques of acting on video media and the stage acting.
Acting for Media 2
Students will identify the difference between video acting and stage acting through camera acting and learn the expression through media in depth.
Acting Practice 1
It is the course where students deepen their acting by acquiring the abilities to analyze and express the works.
Acting Practice 2
It is the course where students, who finish the basic course, will deepen their acting by acquiring the ability to analyze and express the works.
Stage Lighting Workshop 1
In this course, students learn overall skills of stage lighting starting with the understanding of lightings and console.
Stage Lighting Workshop 2
In this course, students will experience the roles and diverse functions of lightings through actual installation and manipulation and deepen the learning of advanced technology of lightings.
Stagecraft 2
It is the further development of stage skill 1. In this course, students will learn inclusive technology area for production and operation of theater facility management and stage art.
Theatre Outreach Project 1, 2
Utilizing educational play methodology, students will plan and execute play educational program through the collaboration with middle and high schools in the neighborhood.
Methods of Conduction Education Theatre
This is a practice course to plan and execute various paly area programs to perform effective education as a cultural art educator. Students, who have teaching abilities through classes, will improve their quality and capabilities to perform art education so that they can become cultural educator in the area of play.
Performance Production Collaboration 1, 2
It is a fusion subject of different majors in cultural art department. Professors majoring in practical music, musical, acting art and piano collaborate and cooperate together to co-produce a performance according to the theme and performance concept given every semester.
Advanced Acting 1
Students will experience the process of 'Research for theme selection – Design of program structure and composition – Composition of the program by stage – Simulation – Feedback'
Advanced Acting 2
It is the development of Advanced Acting 1. The purpose of this course is to adjust to various acting situations by training acting skills according to various forms and patterns.
Pre-production for Thesis
It is to nurture capabilities for actual works after graduation by selecting, planning and producing a work before they go to society by making most of their knowledge and competences that they have learned throughout the curriculum.
Thesis Production
It is a mandatory course who major in play and acting to graduate. They will present their achievements as a work for the verification of their learning in play writing, directing, acting and stage production. It will make sure that students will graduate from the school with qualification and skills.
Auditioning & the Showcase
In this class students will produce portfolio for various kinds of auditions and prepare individual work to maximize their expression capabilities. They will learn how to promote themselves to working level officers of entertainment companies and performance productions.
Independent Study
In this class, various researches and projects will be made so that students who prepare for the graduation can make a final check of individual majoring areas.
Program Development in Education Theatre
This course aims to cultivate students' ability to develop theatric education programs based on the theatrical teaching and learning model, the understanding of the paradigm of culture and arts education, and effective teaching and learning strategies appropriate for the subject. Through this, it is possible to understand the characteristics of drama education programs suitable for the purpose of cultural art education and to develop the basic ability to develop various theatrical education programs applicable to actual educational field.
Theory & Practice of Theatre in Education
In this course, students will understand the basic concept of drama education and discover the value and potentials of drama education or cultural art education. Students will understand the drama play based on the circulative concept of play, drama and theatrical art, and compose a simulation program for the targets.
Performance Marketing
Field professionals in theatrical arts and festival planning are invited to make students understand the works in the actual field and characteristics of performing art.